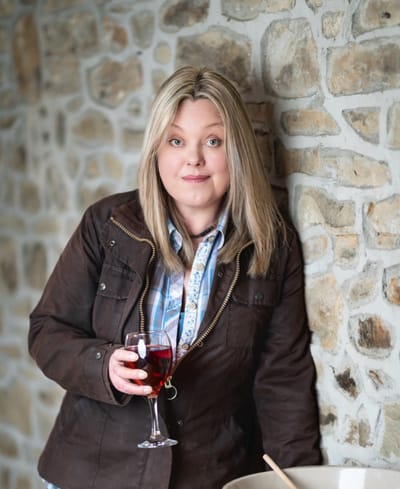 Mrs Slocombe comes from a farming background and loves the traditional ways and is extremely passionate about how our food is produced, where it comes from and indeed how it is prepared, cooked and presented on a plate.
In these modern times we spend too much time rushing around and not enough time doing the things which are important like preparing home cooked food from scratch, rounding up the kids to get involved too, not only lightening the load but also teaching them important life skills at the same time.
She has previously had her own herd of native breed grass fed only beef cattle. She both gets and fully understands the importance of livestock being able to forage and gain shelter from a wide variety of food sources available from natural pastures and hedgerows rich herbs and trees, known as Silvopasture. This is better for the animals as well as the environment and produces the best quality beef you can get as supported and recommended by the Pasture For Life Association.
With a passion for animals (particularly cows) and a great love of Exmoor, she will often be found exploring the moors and valleys and enjoying her other passions for camping and outdoor cooking.
The Book
Mrs Slocombe's Bull at a Gate Cookery offers much more than the average cookery book. Mrs S has seasoned it with humour, nostalgia, wine, beer and creativity. Aside from the many fabulous recipes she encourages the reader to love where they live and creates commemorative dishes to Devon where she currently resides and has also featured some of the well known folk of the area too, Johnny Kingdom, Simon Dawson, Lynne Hall and Julian Seager. Mrs S also likes to raise awareness, smiles and funds for charitable concerns. Mid-way through writing the book, her partner, Chris Pedlar, who has become known as 'Mr Slocombe' featured in the ITV production of The all New Monty which was televised in May 2019. The result of this saw the birth of The Ginger Monty's in which Mr Slocombe, Joe Pasquale and Willie Thorne were immortalised in gingerbread, they proved a bit of a viral hit with many folk stating 'that's the 2nd time I've spat my coffee out this morning' upon seeing them pop up across the pages of Twitter, Willie even stated it's the best he's looked in years. Willie & Joe kindly let me give them a mention in the book too with Willie being supportive in my campaign to keep the momentum of the Ginger Monty's going to raise awareness to men's health. Hence these Ginger Monty's are a regular feature in any Macmillan coffee mornings or Prostate UK Bake & Brew days she's involved in and now have they're very own stage, complete with music, lights and an audience of fellow Monty's.
The book would be incomplete if it didn't include a recipe for the 'fur babies' too so Lynne Hall, an amazing lady and founder of K9 Focus dog rescue got involved too giving Mrs S a liver cake to recreate which resulted in her being hindered, drooled on, tripped up and practically being held to ransom by her goofy black labs, they tried every trick in the book to convince her they could cook it themselves!
Of course the underpinning message of this book is cooking from scratch to have fun along the way with some serious undertones as well.
Divided into sections that include Natures Free Foods, 7 Drunken Nights, Feasts for a Gathering, Mrs Slocombe's Pantry, Mrs Slocombe's Favourite Ways to Cook Meat, Life on the Veg, Pooch & Pussy Treats, Mrs Slocombe goes Fishing and Grandmas Kitchen.
Presented in A4 quality hardback and bursting with colour photographs and with a larger than average print makes it easier to read when it sits on the kitchen worktop.
Copies purchased from this website are signed by the author.
IMPORTANT NOTICE
In a pledge to support farmers, independent traders and the stockists. This book will NOT be going on Amazon and nor will it be in any of the mainstream supermarkets, the awesome publisher has agreed to withdraw the book from wholesale if this looks like happening. Please support your local independent shops wherever you can, Mrs S is available in many good quality food outlets across the South West and book shops across the entire UK. It is also available direct from this site for a signed copy (for a limited time only) using the buy it now through PayPal. Please keep a regular check on stockists which is being constantly updated as Mrs S settles herself on the shelves. Also available overseas please make direct contact for postage rates.